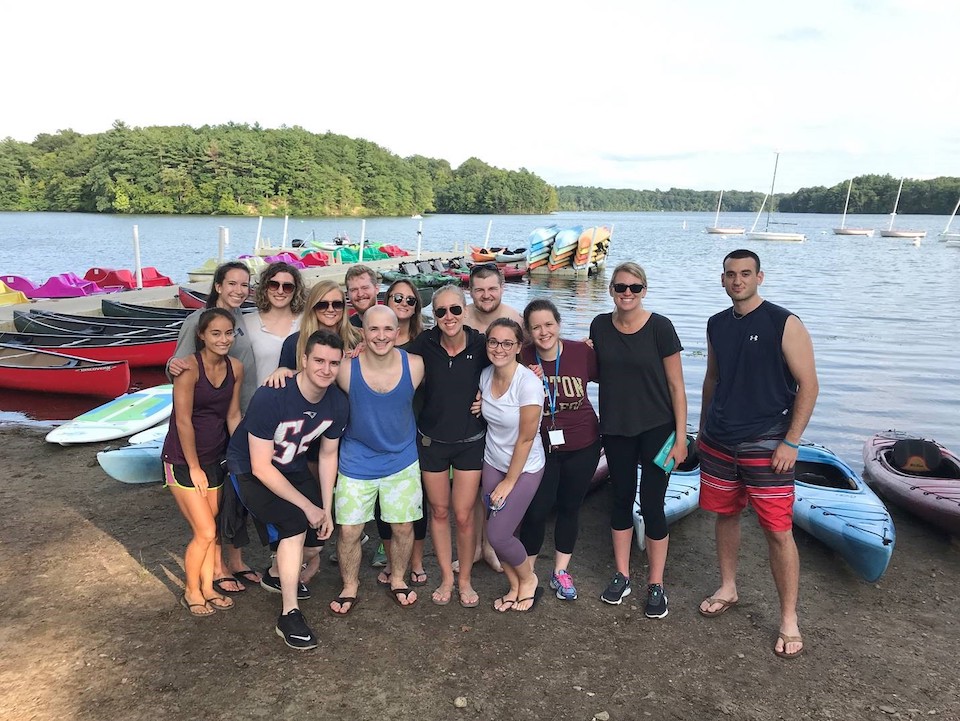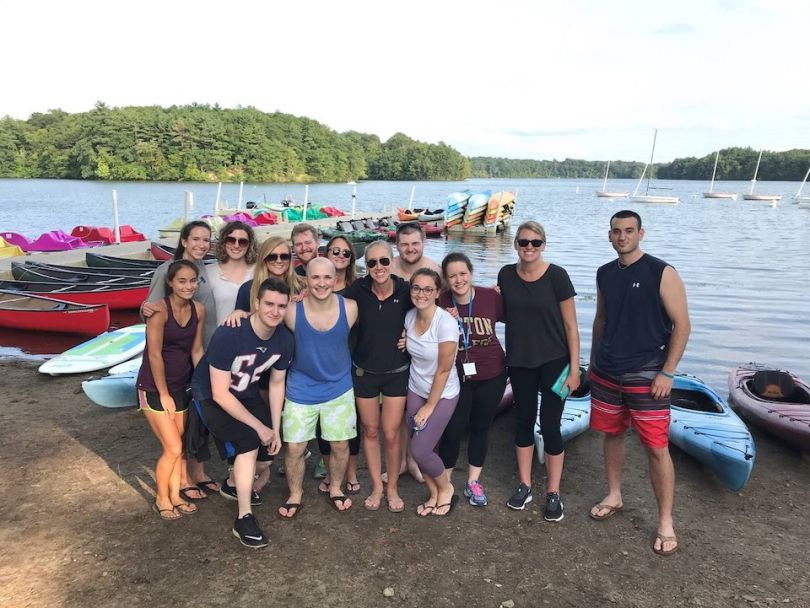 We asked 12 Boston professionals — some who have been with their employer for only a few months, others over a decade — to share their stories of professional growth and the coolest projects they've been a part of in their workplaces. 
They shared narratives of building a mobile-first, AI-enabled face mask customizer in just a few weeks; becoming better team players by working cross-departmentally and gaining new perspectives; and being granted leadership responsibilities as entry-level employees. 
The following professionals said all of the interesting projects and people development mentioned above wouldn't have been possible, however, without the support of their "thoughtful," "people-centric" and "geeky" company cultures. Read on to determine whether you'd be a good fit for these growing Boston teams.
What they do: Video marketing platform Wistia offers companies software intended to improve audience engagement. From video hosting and customizable playback capabilities to analytics and CRM integrations, Wistia uses video solutions to help businesses grow.
Company culture in one word: "Special," Colin Dinnie, support associate, said. "Each year our 'Diverstia,' group — an employee resource group that works to build an inclusive environment — hosts Storytelling Night. It's an event inspired by "The Moth" where colleagues share themed stories about themselves. The stories are triumphant, funny, vulnerable, heartbreaking, inspiring and everything in between. The night offers us a brief glimpse inside each other's lives, seeing what makes us who we are. It builds a strong sense of empowerment, empathy and understanding."
Coolest project Dinnie worked on at Wistia: "I am currently a part of our diversity, equity, and inclusion task force, and it has been an amazing experience, both personally and professionally," Dinnie said. "The task force is made up of members across all levels of the organization, from VPs to independent contributors. We have been hard at work designing a vision with actionable steps for how we can continue to foster an inclusive work environment that is both evolving and sustainable. 
"Working with the task force has given me valuable insight into areas of the business I otherwise would not have my hands in. I enjoy the opportunity to have meaningful conversations and collaborative efforts with colleagues in other departments."
What they do: Business can use MineralTree's platform to automate their accounts payable process from end-to-end. Companies can streamline their invoice-to-payment pipelines with tools that centralize data, prevent incorrect payments and provide increased security. 
Company culture in one word: "Modern," Lauren Madigan, graphic designer, said. "The level of communication between the executive team and the rest of the company is unusually high, which is important when establishing a rapport. It makes me feel as though I'm part of a team, not just someone in the background.
"We also host company forums on important topics like Black Lives Matter, the LGBTQ+ community and others, rather than shying away from what could be a difficult discussion. I also appreciate unlimited PTO, which is definitely a perk that is hard to find."
Coolest project Madigan worked on at MineralTree: "I led MineralTree's branding initiative and website rebuild," Madigan said. "We pitched different creative concepts and brand styles to the executive team until we developed a good fit. We implemented the new brand standards and styles across new content and web page designs, then managed the development and launch of our new site.
"I joined MineralTree as an entry-level graphic designer with the understanding that I would play a role in the website redesign. I was fortunate to be given the opportunity to step up as a leader on the project. The exciting challenge presented me with a huge opportunity for career growth."
What they do: Neural Magic works to make machine learning more accessible to businesses by offering them hardware-less, cloud-enabled AI solutions. The platform aids companies in their image recognition efforts, recommendation systems and object detection. 
Company culture in one word: "Geeky," Kierstin Darragh, sales executive, said. "40 percent of our team holds a Ph.D. Together, we own 58 patents. Our team has been recognized many times for its contributions to computer science, and awarded with Gödel and Dijkstra prizes."
"Most importantly, we're geeky because we are navigating uncharted territory in the field of machine learning. We are building solutions that make machine learning simple, accessible and affordable for anyone. Our geekiness will help data scientists ask bigger questions, challenge norms and unleash a new class of AI applications that live at the edge of imagination."
Darragh's growth at Neural Magic: "I've become a much stronger team player," Darragh said. "It's sink or swim trying to get a product out the door and adopt the first early customers. You have to learn fast, and from everyone. So I try to think from the perspectives of other teams in the org like engineering and marketing, who all bring unique skills to solve a problem.
"I also became a client advocate. I immersed myself in the industry early to become an active listener and internal champion for clients. I would not have thought someone with a business background would be getting into excited discussions with data science teams on topics like "neural network sparsification."
What they do: Small businesses and consumers can use Vistaprint's service to produce customized products to boost brand awareness or provide a heartfelt gift. The company provides customers with tools to personalize sticky notes, posters, jackets, mugs, magnets and dozens of other items.
Company culture in one word: "Ambitious," Ramon Harrington, senior manager of design technology, said. "Vistaprint continually searches for ways to help small business owners with our technology. This idea was highlighted in the past couple of months: Vistaprint shifted focus from marketing materials to face masks, face shields and other COVID-19 related products and content. We saw an opportunity to leverage our software and manufacturing capabilities to support small businesses in new ways and did not hesitate to take it."
Coolest project Harrington worked on at Vistaprint: "My team recently built and launched a new face mask customization experience in just a few weeks," Harrington said. "Our goal was to use AI and 3D rendering to create a mobile-first editor that was simple enough for anyone to design a mask in under a minute. I learned a lot about how we can create a great experience by simplifying the UI, instead of layering on new features, and gained insight into how our tech stack should evolve to build more products like that."
What they do: BookBub is a book discovery and recommendation platform that helps readers expand their libraries. It also has marketing tools for authors and publishers to connect with its network of readers and sell more of their work.
Company culture in one word: "Thoughtful," Melina Hsiao, product manager, said. "Despite being part of an industry characterized by the motto 'move fast and break things' everyone at BookBub approaches their work with care and intent. 
"For example, following the death of George Floyd, the company wanted to make a donation to a racial justice organization. Employees from across the company convened to review a number of orgs before deciding where to send BookBub's dollars. Even something without direct business impact was handled thoughtfully, and included the perspective of many employees."
Coolest project Hsiao worked on at BookBub: "Recently, I worked on a feature in our listening app for our audiobook retailer, Chirp," Hsiao said. "The feature shows users how many hours they've listened, how many books they've finished and how much money they've saved. It was my first time working closely with a mobile development team and I learned a lot about the intricacies of app release cycles. I learned that they can complicate things like testing features with a subset of users, so I developed approaches to tackle these issues."
What they do: Cybereason is an enterprise cybersecurity platform used by companies like Motorola, SoftBank and other businesses across 30 countries. The defense platform uses machine learning and behavioral analytics to offer endpoint protection, detection and analytics services. 
Company culture in one word: "Family," Noi Yamagata, business operations associate, said. "Even though we are a global company with over 600 employees, we all feel like a significant part of the Cybereason family contributing to a shared vision.
"We can completely be ourselves. One of our core values is UbU — or "You be You" — and we encourage staff to embrace their individuality. During our weekly company-wide meetings, we invite an employee to speak about what our values mean to them. And our chat explodes with employees cheering and supporting the employee. Whether on Slack, social media or over an all-hands meeting, when someone has the spotlight, we celebrate."
Yamagata's growth at Cybereason: "I've been at Cybereason in the global operations team for almost a year," Yamagata said. "The nature of the role and the team allowed me to excel in the skills and mindset that's key to project management. Our ops team is essentially the central nervous system that helps internal functions scale wisely and operate smoothly. Some of these large scale, cross-functional initiatives mean we often take on project management roles. 
"My work helped strengthen my attention to detail as well as prioritization and organizational skills. I wear multiple hats and, most importantly, maintain healthy partnerships with various stakeholders. All these skills contribute to professional growth."
What they do: Formlabs is a 3D-printing tool, material and software provider. It's U.S., European and Asian offices produce solutions that span a number of industries including jewelry, dental, research, audiology and more.
Company culture in one word: "Uplifting," Katelyn Salvucci Kingsley, a services agent, said. "Formlabs uplifts customers by encouraging them to push the boundaries of their industry with technology. When PPE and medical supplies were difficult to obtain globally, Formlabs created a Medical Service Plan. It offered support to hospitals via 3D-printing nasal swabs, face shield frames, PPE and BiPAP adapters. 
"The company uplifts employees by ensuring we have the tools necessary to support our customers from home. They provided remote staff with 3D printers, materials, monitors and computers. They also showed patience and understanding as we adjusted to the new normal."
Coolest project Kingsley worked on at Formlabs: "I recently became our first casting and jewelry support agent, specializing in supporting our jewelry industry users to be successful when using our 3D printers and castable resins," Kingsley said. "This project has expanded my knowledge while learning how to work with jewelers and casting houses all over the world. I have been working closely with our sales, material and software teams to create new castable materials and printer settings for our jewelers globally."
What they do: Markforged provides consumers and businesses with metal and carbon fiber 3D printers capable of producing parts with industrial-grade strength. It also offers 3D-printing software solutions and a variety of building materials.
Company culture in one word: "Passionate," Jason Meers, director of application engineering for the Americas, said. "That's the trait every individual possesses across Markforged, along with a passion for our product and its part in the Fourth Industrial Revolution. Everyone shares the same love for additive manufacturing and 3D-printing."
Coolest project Meers worked on at Markforged: "A recent cross-team project we released was our 2020 Additive Manufacturing Trends Report," Meers said. "It's both a study of the additive manufacturing landscape as well as a large in-industry collection of real customer applications and use cases. Being a core leader and contributor to this project meant seeing the parts, tools and products made using our platform, like next-generation surfboard fins, copper CNC tool coolers and in-flight trim for vintage aircraft. 
"Seeing real-world applications — produced using techniques not possible two years ago — solidified the importance of our work to me. The impact Markforged has in allowing for the creation of generally anything brings validation to the work we do every day."
What they do: Trellis helps e-commerce companies optimize their online presence and enables customer conversions with a variety of web services. The company offers strategy, marketing, hosting and development assistance to B2B and B2C companies.
Company culture in one word: "Camaraderie," Mike Patterson, senior project manager, said. "Trellis is a company where everybody has the same goals. Management worked hard to build a culture where everyone is aligned in the same direction, building the best possible product for our clients. The culture was built not only through financial incentive but by encouraging the "life" part of work-life balance, which is easy to let slip these days. 
Patterson's growth at Trellis: "I've been with the company for about a year now," Patterson said. "The company helped me grow professionally in several ways. First, by incentivizing work-related certifications that will help my career, not only at Trellis but also beyond. And also by aligning our day-to-day work with overall management goals through a creative incentive program. The program encourages all of us to see our teams as smaller functional business units. It reinforces a different form of tactical thought and planning, which lends itself to project management."
What they do: Definitive Healthcare offers data and analytics solutions to businesses and institutions within the healthcare space. It's data, analysis, go-to-market and integration tools can be leveraged by healthcare teams that specialize in biotech, staffing, medical devices and other areas. 
Company culture in one word: "Incredible," Keegan Hellweg, director of sales, said. "We have a group of approachable, thoughtful, intelligent, fun and driven individuals that are a joy to work with. This idea is true across the organization, but specifically within sales. We have a high energy and supportive group of employees working with a product that's driving impact in the healthcare landscape."
Hellweg's growth at Definitive Healthcare: "I have been with DHC for almost three years and in that time, I experienced significant professional growth," Hellweg said. "My ability to grow people and revenue has improved because the company provides chances for employees to identify growth opportunities for themselves.
"For instance, we recently identified a need for new training, but designing trainings was something I had never done before. Our head of training worked closely with me to create content, which I delivered to the team. It was a new experience for me and something that I enjoyed learning more about."
What they do: Leyton is an advisory firm that specializes in helping companies take advantage of federal and state Research and Development (R&D) Tax Credits. Its tax and consultancy experts work to help businesses employ the R&D Tax Credits and improve their financial stability. 
Company culture in one word: "People-centric," Maggie Crowley, head of strategic development, said. "Leyton's commitment to creating a work environment where people can share their opinions, make an impact and feel valued is paramount. Here, people are in roles that they enjoy, which is the recipe for happy employees."
Crowley's growth at Leyton: "I joined Leyton's senior sales team nearly two years ago and found success through my love of applying strategy to sales through partnerships," Crowley said. "I recently had the opportunity to formalize what I'm good at and create the strategic development team. I feel so grateful to be a part of a company where I can help drive the business and have a blast while doing so."
What they do: Chewy is an e-commerce company that offers pet owners supplies of all kinds for a wide variety of animals. Pet parents have access to toys, health supplies, food and more items through the platform.
Company culture in one word: "Customer-first," Maheswari Govindaraju, director of product management, said. "This word sums up what Chewy stands for and how we approach products. I get to experience firsthand how each discussion starts by asking, 'What is the customer problem we are trying to solve?' rather than, 'What does this mean to Chewy?' Those kinds of questions strengthened my view that being customer-first is not just one of our operating principles on paper, but also the core of our company."
Govindaraju's growth at Chewy: "I have been with the company for nearly a year," Govindaraju said. "It's been great to see a focus on developing a culture based on long-term innovation and sustainable products. One of the core process elements that helps achieve sustainability is our focus on writing product documents. This process helps me and my team think more holistically about a product decision while maintaining a consistent thread. That focus, combined with a customer-first approach, helped me significantly sharpen my product skills to continue to create effective products."