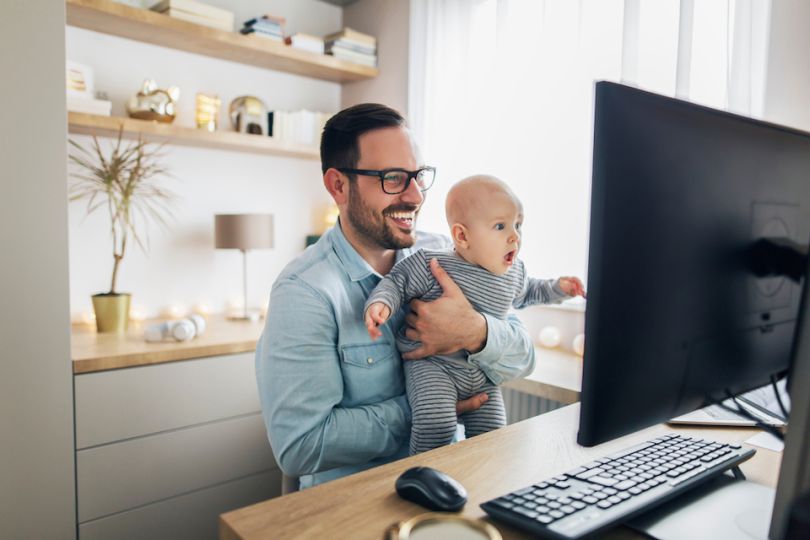 Many technology startups have offered generous work-from-home policies since their inception, but the novel coronavirus has moved entire workforces to full-time remote.
This shift has revealed expected and unexpected challenges — technology issues, feelings of loneliness and distracting family members, to name a few — yet Boston leaders say what can feel like over-communication has a significant impact on keeping remote workforces engaged and productive. 
In order to keep business operations running smoothly, companies are making efforts to ensure their teams members are comfortable in their remote positions with funds to optimize their home offices and flexible hours to better juggle home and work responsibilities. To maintain culture and fight feelings of isolation, new Slack channels and virtual happy hours were initiated to chat about like "Tiger King," provide cooking lessons, and share childhood photos and funny quarantine stories.
One of the most significant ways leaders ensure the well-being of their teams? Asking each individual — simply and directly — how they are doing and how leaders can help.
Most impactful change: "We integrated a daily coffee chat with the team," Spurling, co-founder and CEO of Compt, said. "Every morning at 9:30 a.m., team members can jump into a Zoom where we connect over our coffee or tea. We're actually chatting more than we did when we were in the office. It's a great way to make sure everyone is getting some social interaction and feeling supported, and we've been bonding a lot because of it."
Remote engagement tools: "Every person is different, and we knew that in order to help people remain productive, they might need different things. That's why we encouraged our team to use their quarterly Compt perk stipend to buy whatever tools, products or apps they needed to enhance their lives overall. Last quarter, one person bought rollerblade wheels to add to their new work chair, another used their money on a Masterclass subscription to beef up their business skills and another person bought a scale to make sure they were still on target for their personal weight loss goals for May."
How Compt supports teams: "The first thing we did was make sure that everyone's desk setup was one where they can work from home. Then we realized that each person was going to be managing this lockdown differently. So we asked each person what it was that they needed, be it space, structure or something else altogether.
"Every day, new information is unfolding and peoples' situations are changing. So constantly checking in with each person is how we can make sure they have everything they need to live their best life given the circumstances."
Most impactful change: "A lot of learning comes from overhearing a business development representative talking to prospects on the phone, and that practice is missed in a remote setting," Semple, COO at Datawire, said. "So we implemented Chorus.ai and set up a Slack channel for our BDR and sales team to send out highlights of calls.
"We also miss the intraday, ad hoc discussions of deals, projects, support cases and the like. So we implemented a chorei call for each team. Lots of information is swapped during the chorei and senior leadership attends many of them. We know we can't replace all the casual communication, but in some ways we are more efficient now than we were in the past. It just isn't as much fun as seeing everyone in person each day."
Remote engagement tools: "We became maniacal Kanban adherents to grease projects along. We always ran sprints, but now we are 100 percent more vested in our work management tools. Notion is used for hierarchical Kanban boards that tie energy back to top-level objectives on a daily basis. Its ability to create flexible, hierarchical Kanban cards is impressive and keeps us running efficiently. 
"Koan's check-in features are being used increasingly for employee reflections and goal setting. And Slack's Donut add-on sets up 'coffees' for random employees to intermingle."
How Datawire supports teams: "First, we made sure everyone had the right equipment at home. Second, we adjusted some of our meeting schedules to allow for child care considerations. Third, our front-line managers spend extra time checking in on the health and well-being of team members during one-on-ones."
Most impactful change: "Many of our employees have kids, partners or housemates who are also now at home, so we immediately made it clear that flexible working hours were available," Coppinger, CEO of Teamwork, said. "Everyone has different situations. So if that means an employee works four hours in the morning, takes a few hours off and completes their day in the early evening, there are no questions asked.
"And we are lucky that we can use our own instant messaging app, Teamwork Chat, for staff to be social. We try to engage our teams with fun stuff like quizzes, food pics or vouchers for the most beautiful photos over Easter. We also introduced a weekly company all-hands via video and an internal blog to keep everyone up to date." 
Remote engagement tools: "We are in a bit of a rare position in that we've been building workflow and project management software for remote and local teams for years. That software is what we have been using to run our business since before the current lockdown. Everything is run from Teamwork, from coordinating annual planning all the way to managing daily tasks. It gives everyone direction on what to focus on, provides accountability and allows full transparency and collaboration between our teams."
How Teamwork supports teams: "Before the lockdown, we made sure staff had access to any equipment they needed to work from home effectively. Beyond the physical needs of staff, we also focused heavily on ensuring that people's mental health was supported. For example, we arranged a session with a psychotherapist to answer questions related to the challenges of isolation and working from home. We also asked all team leads to reach out to their direct reports every week to make sure everyone is doing OK. It is important we let our staff know regularly that we have their backs."
Most impactful change: "We created a virtual engagement program where teams strategize and implement ideas to keep employees engaged remotely," Thurlow, CPO of Vestmark, said. "Our newest engagement segment, 'wellness from home' focuses on physical, emotional and financial well-being during self-isolation. We also have a series of additional programs planned."
Remote engagement tools: "In addition to Zoom, we are also using Slack for communication. Our newest Slack channel, #pickmemeup, is a lighthearted and entertaining distraction where employees can post funny memes and share a laugh. Many of our departments are hosting weekly virtual happy hours to help stay connected. Recently, our cross-departmental women's group hosted a cocktail party where everyone dressed up and brought their favorite two-ingredient cocktail recipe."
How Vestmark supports teams: "Our IT department has been instrumental in providing employees with the technology and support they need to be productive at home. Staff have been reminded to take advantage of our employee assistance program to help address any personal issues that they and their families are facing. One segment of the virtual engagement program is dedicated to providing resources and tips for activity, nutrition and sleep. Also, the leadership team offers regular, company-wide communication to provide employees with business and coronavirus updates."
Most impactful change: "Helping employees stay in touch with their teams and apprised of major activities across the organization has been our key focus," Cheng-Cimini, VP of HR at ClearMotion, said. "We launched several new Slack channels: #COVID-19 for key updates, #wellness for related podcasts and content and #philanthropyprojects to highlight employee charitable work, particularly in the area of ventilator technology. 
"Our newsletter now releases weekly and features good-humored employee anecdotes, videos of cooking classes led by our chef and yoga classes."
Remote engagement tools: "Given our two offices in the U.K. and U.S., we were already versed in remote communication and comfortable with flexible working arrangements. The right tool for the right job amplifies our work regardless of where we are, like employing file-sharing platforms that allow for real-time group editing or Zoom for virtual whiteboarding. Our IT team has been spot on with their support and work to ensure that all of our systems are constantly up and running."
How ClearMotion supports teams: "We increased our emphasis on non-work topics by adding more events to our social calendar. Our 'tech talks,' HR coffee chats and happy hours are all well attended. Employees are also encouraged to showcase their passions outside of the office. We've had master cocktail mixing demonstrations and virtual concerts. We also acquired and shared several wellness subscriptions for free, including a Peloton membership. 
"Our team has many working parents, so we accommodated differing work schedules. There are unique challenges to taking video calls with a toddler or a dog on your lap, and we want to be as flexible as possible."