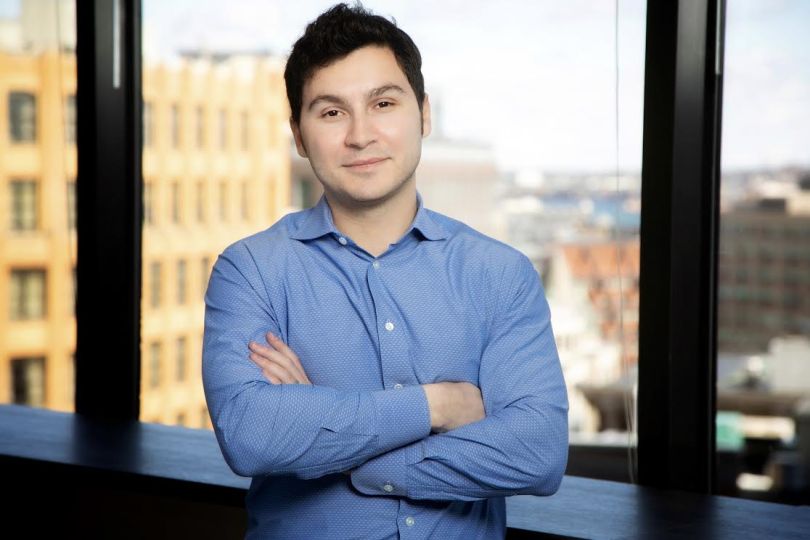 Jordan Menzin's interest in healthtech was first piqued as a college sophomore. While interning at Tufts University over the summer, he dove headfirst into learning Java and developing a discrete event simulation for Alzheimer's disease. Fast forward to 2019 and Menzin — who has worked as a software engineer and software architect for BHE — is now the company's chief technology officer.
Headquartered in the heart of Boston's Financial District, the company uses data analytics to answer the healthcare industry's toughest questions, such as how to improve patient care with cost-effective solutions. Menzin and his team's technology help healthcare professionals analyze complex datasets to glean useful, actionable insights — in just hours or days, as opposed to the previous industry standard of weeks or months. And, in May of 2019, BHE secured $78 million in private equity funding from Silversmith Capital Partners and Leerink Transformation Partners, further fueling their growth.
We caught up with Menzin to discuss how healthtech has transformed since he first started in the industry. He also shared how BHE is getting ahead of the industry's latest challenges with top talent and their Instant Health Data platform.
You've been leading the technology team at BHE for just over eight years; tell us about what originally drew you to BHE and how the company has evolved since then. 
BHE is all about bringing healthcare analytics within reach.
At its core, BHE is a healthcare analytics company, and this is a space that has been underserved by technology for many years, putting too much burden on too few experts. Our founder, Joe Menzin, is a health economist and founded BHE in 1996 as a research consultancy for life science companies. We started building custom software for several clients, which served as the motivation to build our current platform, Instant Health Data (IHD). IHD has been quite successful and now serves more than 25 of the leading life science companies globally.  
With access to the appropriate data and tools, we believe that analysis will inform decisions across the care continuum." 
What's a major challenge facing big data usage within the life sciences industry? How does BHE's technology help overcome that? 
Healthcare generates a massive amount of data but suffers because we lack clean access to that data. By some estimates, we expect to see more than 2,300 exabytes of data by 2020 — far exceeding most other industries — but this data is hard to work with, growing rapidly and not standardized. Healthcare analytics teams need the ability to understand the data and manipulate it at scale, quickly and without depending on external teams.  
IHD brings analytics within reach and augments the capacity of existing teams. With the IHD platform, what used to take months or weeks now takes days or hours. Researchers and analysts can use its intuitive web application to perform complex analyses without the need for custom programming. Users can execute studies at will, reducing the need for outsourcing, increasing the opportunity for just-in-time analysis and greatly increasing the value of these teams to the business.
What is next on the horizon within your space/industry? How do you see BHE playing a role in that future?
Healthcare analytics is a space that is just beginning to take shape. While teams have been working on it for years, it's been the domain of specialty researchers and highly-trained teams within large companies. We are positioned to continue to support the experts but also put this type of power within the hands of a broader group of users. This is vital as we see an expanding national debate on the clinical efficacy and prices of new treatments.
Our customers run thousands of analyses per year, but we view that as a small down payment on the total number that they need to run. With access to the appropriate data and tools, we believe that analysis will inform decisions across the care continuum. Predictive analytics is well-supported by machine learning, which is becoming increasingly important in healthcare to help improve quality and reduce costs. Continuing to expand our software offerings, we are creating and piloting new tools in this space. These tools will further our expansion into the payor and provider sectors.
Looking back on your career at BHE, what has been your proudest achievement so far?
Working with our team to design and develop the IHD platform and seeing the impact it has made on the industry is definitely BHE's proudest achievement. We've become the clear leading tool in the space. Currently, over 70 percent of the top 20 life science companies are using IHD for healthcare data analytics. Many of our customers have used IHD to respond to regulatory inquiries in the U.S., Europe, Russia, China and Australia. IHD has been used for analytics in over 100 abstracts and manuscripts.  
The success of IHD proves that we created a tool that put advanced analytics within reach, but we also constantly get kudos for our support team. This isn't because customers have challenges with the product but more because we have more than 15 people on staff with master's or doctorate degrees in epidemiology, data science, biostatistics or health economics that really understand the business problems that customers are trying to solve and help them achieve those ends.
We need people who want to go on that quest with us and are passionate about making big data accessible."
What's the biggest technical challenge your team faces, and how do you overcome it?
The biggest challenge in this space is handling data at a massive scale while maintaining flexibility and ease of use for the end user. Some of our data sets are more than 15TB with tens of billions of rows of data, and customers need to ask some pretty sophisticated questions. For example, just allowing customers to identify patients with diabetes in that set would be straightforward, but we need to enable much more sophisticated analyses, which on large data sets, become prohibitive if you don't plan for them in advance.
We also provide a layer of normalization on top of the dataset so customers can repeat a study on diverse sets of data without having to redo the entire analysis. In order to do this, we needed to invest in our own infrastructure to manage data economically, a data engineering team that enables us to ingest and normalize large data sets, and a UX team to create a consistent and compelling experience.
Who are you seeking to hire in the near future? What do you look for when hiring engineers? Are there any absolute musts that you look for in potential hires? 
We're on a quest to put healthcare analytics within reach and foster collaboration within our clients. We need people who want to go on that quest with us and are passionate about making big data accessible. Can you internalize the customer's challenge and work towards a pragmatic solution?  
As an example, Matt Brown, one of our principal engineers, joined us four years ago with a combination of computer science and statistics in his background. He didn't start with a big data background but developed an intuition about solving data problems and a knack for understanding where customers are struggling with their data. We are looking for many experienced software, ML and data engineers to join our team. We look for engineers who are pragmatic, eager to learn and want to solve problems for customers with their code.  
How do you create a team feeling among your engineers? Lunch? Nicknames? Does the team do activities together outside of work? Give us some details.
Our culture is centered on collaboration, teamwork and fun. For example, our upcoming company meeting is being held on a cruise in Boston Harbor (a request from one of our engineers). We've hosted pub crawls, organized outings and regular lunch-and-learns and are always looking for the next great idea. We just moved into a new office space right in Post Office Square. Our new office space is perfect for team collaboration. The open floor plan for the engineering department allows for easy access to people at all levels of the team.