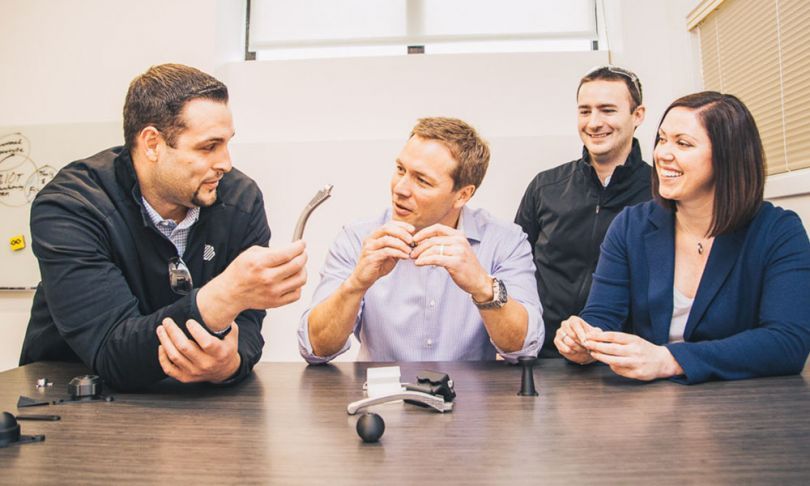 3D printing company Markforged raised $82 million in a Series D round led by Summit Partners this week. The investment brings the company's total funding to about $137 million in venture capital.
The latest round will be used to grow the team's headcount and speed up Markforged's product roadmap, including the introduction of new materials and mass production printers. The company is also eyeing global expansion within the $12 trillion manufacturing industry.
Markforged has been quietly executing at an incredible pace..."
"We're very excited about this new round led by Summit Partners, and we're going to put this funding toward fueling our global expansion and accelerating our product development cycle," said CEO and Co-Founder Greg Mark. 
Within the next year, the Cambridge-based company has plans to release more metal materials, including: A2 tool steel, D2 tool steel, 316L stainless steel, Inconel 625, titanium, and copper, according to Mark. They also have plans to release a flame retardant composite material that will introduce new opportunities in aerospace, automotive and defense industries.  
"All of this new innovation is designed to further enable manufacturers to replace more and more of their traditional manufacturing processes with additive processes – and we're doing more and more every day," Mark said. 
The company has plans to open offices in Europe and Asia by the end of 2019. In Boston, they aim to double the size of the engineering team, on top of hiring across functions. 
Founded in 2013, Markforged's Metal X 3D printers help engineers from aerospace, automotive, and industrial industries, print products in materials like steel and aluminum within one day. Markforged's technology has caught the attention of big-name customers like NASA, Ford, and DowChemical.
"We have been actively monitoring the additive manufacturing market for the last decade and are excited to partner with the Markforged team," said Summit Partners Managing Director Michael Medici in a statement. "Markforged has been quietly executing at an incredible pace for the last five years, delivering exceptional products that solve real-world industrial manufacturing needs."
The company is not short on accolades. They were recently named by Deloitte as the 10th fastest growing technology company and listed by Forbes as one of the next billion-dollar startups. They also tout customers in over 50 countries, 133 patents filed and 38 patents secured.