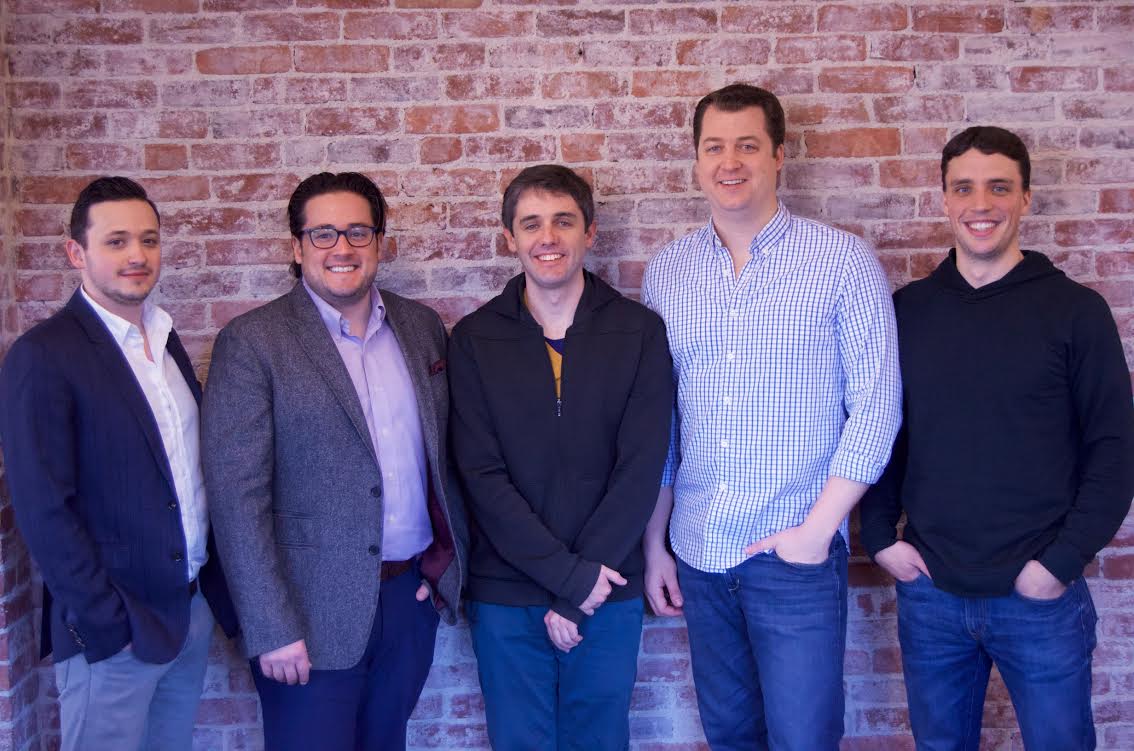 Say you're a new CEO launching your first venture and you need some advice about fundraising.
Do you blast a post out to your 1,000-plus LinkedIn connections?
Chase Garbarino bets you wouldn't.
"When I needed guidance in regards to handling fundraising, I didn't go to my LinkedIn network to post something for all the world to see that I needed advice about talking to investors," Garbarino (far right) said. "Instead, I reached out to a handful of my trusted professional contacts to get their opinion."
Garbarino said the need for a more casual chat platform for professionals in the innovation economy was the catalyst for his latest company, VentureApp.
Launched in 2015, VentureApp is a business chat platform designed to help entrepreneurs and innovators communicate with their closest professional contacts while connecting with new partners — without overloading your inbox.
In addition to aiding everyday business conversations, VentureApp facilitates chats with entrepreneurs, investors, experts and influencers through its online "Office Hours" tool. Users can sign up using their email, Google+ or LinkedIn.
"Many people aren't satisfied with what you find through LinkedIn posts, which are often selling things or dropping promotions," the CEO said. "Whereas, if you want a reference for a vendor or want to know more about working at a new company, you need more private information. That's when private chats work better than one-to-many conversations."
Backed by Accomplice, Boston Seed Capital, Fullstack Ventures and a handful of angel investors like HubSpot and Techstars, VentureApp raised $4 million in funding this March, which Garbarino said would be used to grow the company's product and engineering teams.
There are currently about 2,000 tech and venture capital businesses in Boston using VentureApp's platform — including Drizly, Vesper and Crayon — but Garbarino said the chat tool could easily apply to other sectors like retail, hospitality and more.
The VentureApp Boston team sits around 30 employees now, but Garbarino said the startup is looking to bring on between two and 10 people over the next year.
But don't think that means they're in a rush to hire.
"We're lucky to have the capital to grow now, but for us, from a headcount perspective, it's all about getting people with the right fit who have the right mission," Garbarino said.
To this end, the CEO — who also co-founded BostInno — said he actually tries to discourage job seekers from working at VentureApp, telling them that startup life can mean long hours and a constant grind.
"Every startup has problems," Garbarino said. "We're looking for people who run with fire, who are highly analytical and know how to make work fun. Many people have seen 'The Social Network,' which makes startups look cool, but there are many elements of startups that are really, really hard and can take away extra time with family, friends, whatever.
"Telling people that at startups you have to make one plus one equal three scares people off but in a good way," he said. "We don't want people who crumble when the going gets tough. We're a little more candid."
Photos via company
Know a company worth profiling? Let us know or tweet us @BuiltInBOS